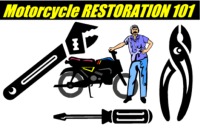 By Tom Mehren
Painting
As you tear down, you may be inclined to start restoring some painted parts. This will mean either bringing them back to their original paint color, or shooting them with a new tone especially selected by you and your alliances.
Rattle Can or Pro Shop
Some people choose to paint everything at home, others send it all out to the paint shop. In my experience, I've found you can paint most of the parts at home and get about the same quality as a pro shop. When it comes to the headlamp housing, side covers, fenders and the tank, you may opt for the pro shop since those typically require finer finishes and a dust free environment to achieve the luster of the original surface or better.
But parts like frames, bar mounts, various guards and other mounts can all be shot at home using acrylic or lacquer paints from your local hardware store.
Be sure if you decide to go with lacquer that every layer you shoot including the primer, color and clear coat is a lacquer base. Lacquer and Acrylic don't like each other.
Prepping
Begin with getting your work space ready. Drape drop cloths where needed. Again, be kind to your neighbors by working far away from parked cars and structures, or else create a four-sided tent that will help contain the residual spray.
Sand, or at least clean, the part you plan to paint. The use of a wire brush or scotch pad is highly advised in order to be sure you've removed any dirt and rust from the item.
Primer Coats
Begin by shooting on a single coat of primer to the part. Most hardware store bought primers dry in 30 minutes or less, so once you've completed one side and it's dry, flip it and shoot the other. Then repeat until you've shot on a total of two coats.
Final Color
With most parts you'll be using black or silver paints, but you might choose to do something crazy like paint your frame purple. Have at it! Hey, it worked for Eric Buell, when Buell introduced the X1 Lightning, and maybe it will work for you too.
Whatever color you select, shoot at least two coats onto each part. Allow the part to dry the recommended amount of time the can says before adding the next coat.
Clear Coat
Recently, clear coating has become quite popular. It adds an extra layer of shine and luster to most things as well as puts an extra layer or two of protection between a hard object and the part. Frames get hit with rocks all the time, so consider shooting a few layers of clear coat onto the frame once you've put on your final color.
---
Motorcycle Restoration 101 is an ongoing series of tips about restoring motorcycles. The entire 10 part series is available on CD-ROM from the Sound RIDER! Store.