2010 Rally in the Gorge Recap
Each year I look over the highlights from past rallies and always note how varied things are from year to year. This year was no exception. New rides, new adventures, new rally events, new food options. It was all going on.
With an array of flash gear, Turkphotos created studio-like images onsite at Panorama Point during the Friday Fun Run. To see more photos and purchase choice shots visit www.turkphotos.com.
It was our eighth in a row, and we're always changing things around, improving them for the attendees and making our setups and breakdowns smoother and more complete.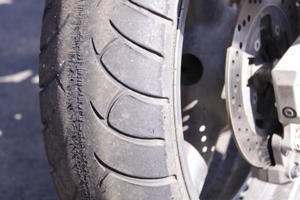 Rally setup this year was nearly complete by mid-day on Tuesday giving us time to cross all our t's, dot all our i's and double check things before we opened our doors on Wednesday morning. We've been working toward making it more of a turn-key setup and we're getting there. Thanks to Bruce, Paul, Connie, Greg, Emily and all the CMA Fast Lane staff setup and breakdown was a breeze.
Above: Here come the cords. You think it's gonna last, but after several 200+ mile days you limp back to the fairground and Don mounts a new tire for you.
Wednesday morning we opened at 9 a.m. without a hitch. Having the RV field all stripped before we arrived really helped the Fast Lane guys with parking RV users and placing the car campers. We noted a lot more trailers being brought in this year, which seems to be a result of merging all the components together (Sportbike Northwest, Dualsport Northwest, Sport Touring Northwest and Maxi Scoot Northwest) last year and attendees wanting to have more than one bike available to participate in the various events throughout the rally. Several riders were able to mount dual sports for one day and use a sport bike on another.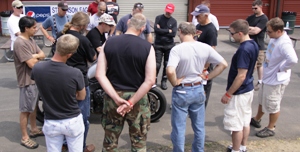 Our first clinic on Wednesday was Bret Tkacs suspension setup clinic. It's always been popular in the past and this one was mobbed with more than 50 attendees. Our featured guest Lee Parks was on hand and assisted, which allowed the guys to break the group into two more manageable halves, creating a better learning experience for all. A suspension setup taught by two great instructors is worth the cost of a rally alone; these things usually require at least two shop hours at an average of $100 an hour.
Above: Lee Parks works another bike through the suspension clinic.
Since learning the Vanishing Point technique, I've been a big endorser of it and asked Puget Sound Safety to teach a class module followed by a rolling clinic. Again it was mobbed, and the rolling clinic went out with 32 riders in all. There was a reference to it on one of the suggested ride maps so people had a refresher when they were ready.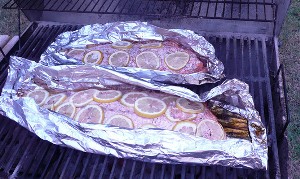 Thursday Tim Bernard from Happy Trails led a group of a dozen dual sport riders out to the Yakima Indian Reservation. The route to and from presented several variations of dual sport surfaces and riders were able to work on technique going out and coming back. The group enjoyed a salmon lunch which included three types of salmon, all native to the hatchery.
Above: Salmon waiting for dual sporters on the Thursday Happy Trail ride. Photo by Tim Bernard
Throughout the rally, Todd & Janet Ostrom and their crew kept meals coming all day. Caterers by trade, this was their first time doing a vendor space at an event, which is vastly different from catering in many ways. For a first time job we thought they did a great job overall. The ingredients they used were top-of-the-line, portions were explosive and while service seemed slow at times, that is what you get when all the food is prepared to order. They also did a great job keeping our staff fueled throughout. We're looking forward to having them back in 2011.
A new addition at the rally was the self-serve bike wash, which Bruce Scott setup and furnished the accessories for. We've always wanted a local kids organization to run one, but that's never materialized. This year Bruce took it upon himself to make it happen regardless, and it was a busy place during non-riding hours.
Friday started out with a 200 mile fun run; 165 miles if you took the dual sport route. At each checkpoint riders were inspected and got points for carrying items that solve many problems while traveling. Air pumps, patches, spare fuses, duct tape and full riding gear were all ponied up along with other assorted items. In the end, the first place winner Ryan Seward had all but five of the 30 needed items and won with 155 points. There were three 2nd place winners and three 3rd place winners, one of whom happened to happened to be Seward's dad, Mark.
For the Fun Run, I had the pleasure of giving the Kymco Downtown 300i a test ride. I must say, it was quite a fun 200 mile test ride. Click the link to read the separate story. Between checkpoint 3 & 4 I doddled a while and checked out a bridge washout from five years ago. Looks like the Forest Service has gotten around to repairing it, and I'm told it will be open in time for next year's rally!
Right: Bridge Repair means a whole new road in 2011.
Following the Fun Run awards, Dave Preston and Harvey Gilkerson launched into a rousing disbursement of door prizes. Additional door prize tickets were sold with the proceeds going to our Gorge Kids Explorer fund that provides funding for local educational trips to kids living in the area. As the door prizes went on, the sky welled up, the wind picked up and lightning was all around us. Just as the final door prize was divvied, the sky opened up and dumped several inches of rain in the course of a few hours. There's just nothing like a good Cascade summer lighting and thunder storm in the middle of summer at the end of the day.
By morning the clouds were gone and the Gorge was back to being it's beautiful self. The morning breakfast opened early and a full spread of tasty continental breakfast items ensued. Attendees enjoyed demo rides from Kymco USA and South Sound BMW. Some riders headed to Maryhill for the always popular road clinic in the morning, while others used a variety of long routes to make their way out for the afternoon session on the Maryhill Loops Road.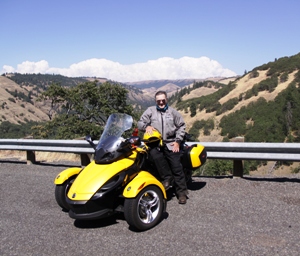 I grabbed David Hough for the ride back and took him along the roads less travelled from Maryhill back toward Stevenson. We rarely rode on SR 14 at all. At several points we pulled out and like good journalists, spent some time photographing one another. There's Dave with Klickitat Canyon in the background.
Saturday evening, another round of door prizes occurred and then we rolled into the not-so Silent Auction. Due to an administrative glitch we were unable to put together the sheets for the Silent Auction the way we normally do, so instead Dave and Harvey called the auction live. A dozen items brought several thousand dollars in for the Explorers fund and a good time was had by all. Tim Bernard had thrown in a set of Happy Trail's panniers which were stalling out at $550, but when Tim offered a second set, one for each high bidder if they would each go to $600, Lee Parks and Rolf-Immo Gabbe both walked away winners.
You're simply my interpretation of the event. Every rally goer had their own adventure and I'm enjoying hearing theirs too.
I recall the first year we did the rally back in 2003. The ride home included tears because it just seemed like the perfect end to a great riding season that year. I still get a little choked up about the end of the rally, only now there's still several months of great riding to go.
Get out there and ride, and we hope to see you at the rally in 2011. Dates will be announced in a future issue of SR!
TM/Summer '10
Below: Event staffers Greg and Emily take time out for some fun near Mt. Adams.