SR! Rally Week in the Gorge Recap
Another Sound RIDER! Rally Week in the Gorge is in the books and in more ways than one it was the most successful rally yet.
We arrived the Monday before the rally began (Thursday 8/23) and set camp – in the rain. Once the tents were set up the rain subsided and we never saw a drop for the next 10 days.
The rally opened the following Thursday and by Sunday a record attendance of 486 people put us just under a hair of 500. Maybe next year. But nonetheless that's 25% ahead of last year's count of 400 and we're happy with that kind of growth.
The number of manufacturer demo rides rose from one choice to three this year with Triumph, Aprilia and BMW all offering demo rides during the event. All in all, an estimated 700 demo rides ensued. Attendees enjoyed the chance to test bikes side by side and hone in on what may be their next purchase.
Tim Bernard offers up a poker run chip at Panorama Point along Friday's poker run. Checkpoint #2, Mt. Hood, towers in the background.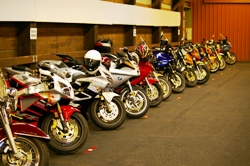 The Bike Barn (shown left) sponsored by Factory Motorsports provided indoor parking for the first time ever in the large stock barn at the fairground accommodating several hundred motorcycles. This reduced traffic through the area significantly, making the area much safer, easier to run demo rides in and out of and a lot more sane overall. Wow!
The Skamania County Kids Explorer Fund got quite a boost this year with the Saturday and Tuesday evening silent auctions. In 2006, only enough money was raised through the sales of door prize tickets to fund two educational field trips for the local kids in the area. This year we changed the fund raising format to a silent auction and through the generosity of companies like Avon Tires, Happy Trails, Cycle Venture and Rapid Transit – all of whom donated items at no cost, we were able to raise considerably more net revenues and the program is now funded for four field trips in the next 12 months.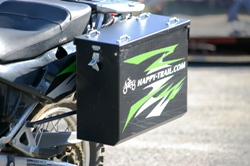 Food-wise things were well ahead of what we've ever offered before at the rally. The Eagles opened their burger shack on Thursday and Friday making it convenient to get food onsite for those who wanted it. We also had Tasha and her crew from Carson's Stompin' Groundz on hand during the busier hours of the rally providing coffee drinks, water, other beverages and snacks to attendees in the Exhibit Hall. The food provided to attendees on Saturday and Tuesday was received well by most (we know we never can please everyone) and we'll be looking into having Chef Petrone return once again for the Saturday program in 2008. Stompin' Groundz provided a tasty Tuesday breakfast and Hood River's Andrew's Pizza once again delivered the finest pizza you can get your hands on in the Gorge.
Don Daugherty snagged a nice pair of Happy Trails panniers for his 08 KLR during the Tuesday silent auction.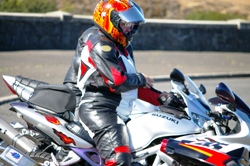 Crashes were up in actual numbers this year, but down in percentages from years past. We tallied 14 crashes in all with 7 of those resulting in minor injuries. Two were caused by four wheel motorists while the other 12 were self inflicted mostly due to riders overriding their abilities; following too closely and general inattentiveness. The fact that more than 90% of the people who attend the rally (like this rider at the left) are fully geared up accounts for why injuries were so few and minor. You don't see a lot of tennis shoes and blue jeans during this event; if you did, you'd see worse results. In 2008, we'll be injecting even more riding clinics and seminars into the agenda as well as adding a chapter to the Guide to the Gorge book focusing on why people crash in the Gorge (and anywhere else for that matter).
Speaking of the agenda, we ran it more like a three ring circus this year. There was so much going on at any one given time there wasn't time for anyone to to take it all in--go ride, take demo rides and socialize--which we think is a good thing because you'll just have to come back year after year to get more of it. Certain seminars and clinics were repeated so people had more than one chance to sit in.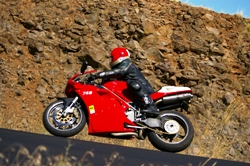 The AMA Maryhill Loops Cornering Clinic taught by the instructors of Puget Sound Safety was a hit out of the gate. The clinic, limited to 15 attendees, was solicited as an additional cost item to everyone on the SBNW mailing list. Within 20 hours we had sold 14 of the positions available and withheld one for auction the Friday night before. Erik Folksted won the final bid on the last spot paying $180 for the three hour clinic. He, like many of the others, reported that it was worth every penny and would like to do it again in 2008. Monies from the registrations went to pay for the additional road rental, purchase one year memberships for non-AMA members and pay for the instructors time.
A Ducati rider winds along the fresh seal coat on the Maryhill Loops Road.
By moving the poker run to Friday and having the general opening of the Maryhill Loops Road to all attendees as a standalone event on Saturday, we were able to spread the usage out, eliminating long lines of riders waiting to get on the road.
Friday's poker run route was lauded as one of the best ever by many attendees. The sights and roads brought together one of the best rides anyone could ever take in the Gorge. Next year's route is again entirely different. Think about this; we now have six different poker run routes. If you reverse the direction of them you then have a dozen which means we can run this rally for at least twelve years and never repeat the same route! This is a testament to just how many miles of great roads there are in the Columbia River Gorge and is one of the reasons why we continue to produce the event there year after year.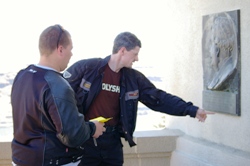 Other new events this year were the Sam Hill Adventure Hunt and Rump Roast 500 providing various ride options for Saturday.
Searching for clues during Saturday's Sam Hill Adventure Hunt.
Every other year we give away the Sound RIDER! Guide to Motorcycling in the Columbia River Gorge book. On the off years, we make it available for sale. We do this because on the years we give it away so many get distributed it seems a repetitive waste of resources to give it away to the same people year after year (we have a significant amount of attendees who return year after year). The book will be updated into it's third edition for 2008 and will include nearly a dozen more rides.
Because of the significant number of walk-up registrations we ran low on T-shirts. We know who didn't get them and will be making a second run in late September and mailing the shirts out to those who either missed them or registered for the rally but didn't show up.
This was the first year we'd put a gate with a wristband check into place. A tip of the hat to Tim Bernard and the CMA members who ran the gate for a job well done. We'd also like to thank Snyder Security Services for a great job backing up our wrist band compliance program and keeping things safe and sane for everyone attending.
Just how far over can you lean an FJR?
I want to say thanks to everyone who attended the rally for being respectful of the fairground rules, other riders and campers and providing a general air of fun throughout the weekend. We're looking forward to seeing every one of you back next year!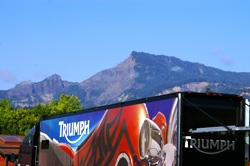 I'm not going away without thanking some key folks who have stood by me since 2003 when we started Sportbike Northwest and have helped it grow into the four mini rallies it is today with the addition of Sport Touring Northwest, Dualsport Northwest and Maxi Scoot Northwest. Connie Adams, Bruce Scott, Harvey Gilkerson and Paul Tefft have all worked tirelessly year after year on pre-planning input and providing rally grounds support before, during and after the event is over. I also want to thank the county of Skamania, the town of Stevenson, it's law enforcement and businesses who continue to support this rally. Without the people mentioned here this rally would not happen.
Is there a more scenic setting for a demo ride?
Following the rally we solicited feedback from everyone who attended. We got some great info back as a result and will use it to make the 2008 rally even better than this years. Mark your calendar - the 2008 Sound RIDER! Rally Week in the Gorge will be held August 21-27.
TM/Summer 2007, Photos by RJ