2011 Rally in the Gorge
Nine reasons why you won't want to miss #9
We're just days away from the 9th annual Sound RIDER! Rally in the Gorge and as you can imagine, "we're up to our necks in ralligators"™. As a motorcyclist who loves great roads and good times, it's not hard to come up with 99 reasons to go. Due to limited space, let's just cut to the chase and highlight 9 reasons (at random of course) you want to make it to this year's event.
Above: Author Pat Hahn is added to an impressive list of 21st century moto journalists who will be at the rally.
#19 - Motojournalist Mayhem: We've never seen a collection of 21st century motojournalists like this culled together all in one place. We start with nationally known authors including Clem Salvadori (Rider Magazine), David Hough (Proficient Motorcycling) and Pat Hahn (Ride Hard, Ride Well) and then we add on top of that local favorites including Dave Preston (Motorcycle 201), Tom Mehren (Sound RIDER!, Packing Light Packing Right etc...) and others. As a registered rally attendee you're invited to join us Thursday night for our annual authors round table at the WMST Exhibit Hall Stage.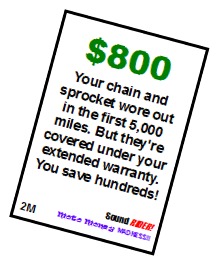 #28 - Moto Money Madness Fun Run: Our 200 mile Friday Fun Run (about 150 if you take the dual sport route) is fun and easy, highlighting the joys and woes of owning a motorcycle. Pull a Madness card and see what it has in store for you. At one checkpoint you might make money selling some old moto items at the swap meet and just when you think you're rolling in dough, you realize your bike needs new tires, or a battery, or a level three service. How will you fare in the end? The final checkpoint requires a bit of skill, but you're a good rider and you can pass through it easily!
#37 - Cool Rolling Clinics: Sure, some rallies have indoor classroom style clinics and we're no exception when it comes to that. But we take it one step further by running rolling clinics where you can work with the skills you're learning real time. Check out the schedule to see what they are this year.
#46 - Cutting Edge Vendors: You won't see 100 vendors at this rally, it's more like two dozen. Each one is hand selected and is on the cutting edge of their business. 21st century storage solutions, the most innovative after-market lighting, the most advanced riding gear and more can be found onsite in the midway and the exhibit hall. The best time to visit with the vendors will be early to mid morning and late afternoon, because just like you, when the late morning rolls around, they'll close up shop and go enjoy the twisties.
At right: Who says you don't have enough power to run auxiliary lights? Check out the new low wattage bright-light add-ons available from Creative Cycle Concepts.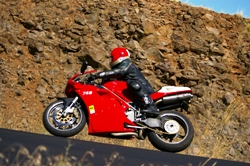 #55 - Rally Photo Contest: Everyone who owns a digital camera is a photographer - right? OK, now it's time to share your best rally pics with our judges and submit them into the various categories. Details on how to play will be included in your program when you arrive. Winners will receive some nice photo gear prizes.
#64 - Rider Education Panel: We bring together the movers and the shakers in Northwest rider education to look at where it is currently and where it's going. Rarely will you ever get a chance to see these key players all together. It happens Friday night on the Happy Trails Main Stage.
#73 - Alternative Routes - Many of you will be coming from The Puget Sound region. And by now you're aware it's very likely your favorite roller coaster into the rally, FS25 along the east side of Mt. St. Helen's is still snowed in. Fear not. We have three alternative routes. Two are quick and one is an all-day-sucker of a fun ride. We bring together some of the best old roads and leave the interstate options behind. We'll be posting details of that route closer to the rally date. Watch the front page of each sub-site for details.
#82 - Awesome Silent Auction & Door Prize Items: Bid in the Silent Auction and you just may take away an item or two at a great price. This years items include rider to rider communications systems, rider education courses, tires, video gear, tolls and repair stuff and much more. If we don't have it, you don't need it! And be sure not to miss our door prizes Friday and Saturday night which will be called out from the Happy Trails Main Stage by the illustrious Dave Preston and Harvey Gilkerson.
Above: Who doesn't need a little more storage space? Givi's E55 Top Case will be on the auction block. It offers a fat 55 liters of storage and retails for $350, but the bidding will begin at just $175. This item comes to us by way of the good people at Give and Seattle Cycle Center.
#91 - So Many Great Roads to Ride!: It's often been said this is a riders rally. Unlike other rallies, our fairground becomes a ghost town by noon as riders work their way across miles and miles of the great roads nestled in the Columbia River Gorge. You can't ride them all in the five day period - which only means one thing - you'll have to come back again and again to conquer them all! And remember that complimentary maps with turn by turn directions, along with GPS downloads of our suggested rides and fun runs are available to all registered riders while at the event.
The rally runs at the end of this month, Wed-Sun 7/27-31. More information about the rally is available in four flavors at www.soundrider.com/rally. Check it out!
At right: Kids from Mill A school in Cook Washington explore the wooly mammoth at the Columbia Gorge Discovery Center in The Dalles, OR this past spring. Our silent auction raises monies needed for local kids to get out and learn more about where they live. Half of this field trip was covered though a grant by Sound RIDER! using these monies. Without that grant this field trip would not have taken place.
TM/July 11