Pony Express 2003
National Motorcycle Relay for Breast Cancer Research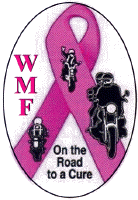 Many of you are familiar with previous Pony Express Rides, and some of you have, no doubt, participated in one or more of these. The next National Ride will begin in July 2003, kicking off right here in Seattle.
Although the Pony Express campaigns are sponsored in part by BMW Motorcycles, they were not created by BMW or any other large corporation. The Pony Express is a true grassroots effort. In 1993 two women from a small town in New York state decided that they had seen far too many of their friends and loved ones die from, or have their lives changed forever by breast cancer. They wanted to do something to help, and came up with the crazy idea of riding almost 13,000 miles on their motorcycles to raise money for research! Joined by two of their friends, four women on four motorcycles rode from the Atlantic Ocean to the Pacific, then they hung a right and didn't quit (even while encountering 1,500 miles of dirt roads) until they had reached Arctic waters. When they raised $25,000 they thought that if four of us can raise this much, what could we do if we really put our minds to it? Sue Slate and Gin Shear, the two originators, created the Women's Motorcyclist Foundation, a charitable organization with the purpose of raising funds for the Susan G. Komen Foundation. From the start they have had an agreement with the Komen Foundation that every penny raised by their Riders would be earmarked for breast cancer research, and that none of it would be used for overhead or expenses. The same would hold true for the Rides. Bringing on board sponsors such as Walgreens, the AMA (Motorcycles, that is), Edelweiss Tours, Boeing and BMW Motorcycles to help defray the overhead costs of the Relays, the Riders themselves pay their own expenses such as gas, food and lodging. Just taking part in the Ride is such an inspiring experience, and nothing could be more rewarding.
In July of 2000 my husband Doug and I, and a lot of other volunteers, rode from each of the four corners of the United States all the way to Peoria, IL, a destination chosen NOT for its scenic winding roads and balmy July temperatures, but because 'Susie' Komen was born there, and because she died there of breast cancer while in her 30s. Everyone is familiar with the symbol of the pink ribbon which represents The Power of a Promise, the promise Susan Komen's sister gave to her, that she would do everything possible to bring an end to breast cancer. Toward this end, Nancy G. Brinker established the Susan G. Komen Foundation. National Pony Express Rides have taken place in 1996, 1998, and 2000, and have raised over 1.5 million dollars for Komen. That's not a lot of money when compared to the Race For the Cure or some other mega runs or walks (and these events are all needed), but the heart and soul which goes into it cannot be measured, and the fact that a donor can be sure that 100% of their donation will be used for its intended purpose is very satisfying. There are very few charitable organizations which can make that claim. In 2003 a portion of the money raised will go also to local participating Komen Affiliates, such as Puget Sound Komen here in the Seattle area, to help educate individuals about early detection, to pay for mammograms and other diagnostic tests and for treatment for those who cannot afford it.
The 2003 ride will be much different than the 2000, going back to a relay format, with fundraisers riding legs of approximately 75-100 miles each. After registering and raising a minimum of only $250, one can choose to ride a leg, a day, or the whole route. Associate, Principle and Honor Guard Riders will be accompanied by the official Pony Express Team members, and will take part in ceremonies at the various stops along the routes. This is a national effort, which begins in Seattle! The "Western Trail" leaves Seattle on July 25th, traveling through Oregon and such gorgeous spots as Diamond Lake, going as far east as Reno, back to the coast in San Francisco, as far south as San Diego, and ending with Closing Ceremonies in Los Angeles on August 1st. A "Central Trail" will start in L.A. and cut across the country to Florida. Then an "Eastern Trail" will leave Orlando on August 15th, wind around through Georgia, Tennessee, Kentucky, Ohio, Indiana, Illinois, Pennsylvania, Maryland, Virginia, New Jersey, and end with Closing Ceremonies in New York City on August 24th. It is a huge undertaking, and some of the Team members will be riding the entire thing, from Seattle to New York.
About 40% of the fundraising participants have historically been men, not surprising since every woman with breast cancer is a wife, a mother, a daughter, an aunt, a friend. Breast cancer is the number one killer of women between the ages of 40 and 59, and the leading cause of cancer related deaths among women ages 20 to 59. Everyone is a victim when it strikes. (Not as well known is the fact that approximately 400 men die each year from breast cancer, and I've found that most men don't realize this is even a possibility.) Even though science is still searching for the cure, great strides have been made through research' such as early detection techniques, and drugs such as tamoxifen which are making it possible for survivors to live many high quality years longer than they would have in the recent past. The research being done will help not only those with breast cancer, but other cancers as well.
Riding into Peoria in 2000, the sight of hundreds of bikes in staggered formation as far down the road as I could see ahead and in my mirrors behind, almost every brand of motorcycle represented, ridden by women and men from every part of the United States and Canada, all having raised money which will someday end one of the most devastating diseases on the planet, was an awesome sight. I would gladly ride through the heat and flat and corn of the Midwest to see it again, but next year we don't have to! A beautiful Trail down our own West Coast is being planned right now, and will leave Seattle on July 25th, 2003. Riders will have a choice of riding one leg or 2,100 miles, or clear to New York City if they so choose! Those who wish to support the cause but cannot make the trip can make a donation and be represented by one of the Riders. You may now check out www.ponyexpressrides.org which has been updated with 2003 Relay and registration information. For more information anytime, you may email me at douglas.barritt@gte.net, and come see us at the Pony Express booth at the International Motorcycle Show December 13th, 14th, and 15th at the Stadium Exhibition Center in Seattle.
In 2000, Doug and I participated as fundraisers. In 2003 we are both part of the official Pony Express Team, and I am also a Trail Planner. We will ride the entire Western Trail. All Team members are still fundraisers, just with extra responsibilities! Pony Express donations are collected before the ride and sent into Komen immediately. The Ride itself serves to highlight the cause, to spread information about prevention, early detection, and treatment in the communities it passes through, and to honor those who have fought or are continuing to fight the disease. Please consider participating as a Rider, and if you cannot, then consider a donation through a Rider! Join us "On the Road to a Cure"!