Powersports Dealers Show
Welcome to Indianapolis where it's 'Anytown USA.' Well, almost. See in Indianapolis they have one thing that they're known for, the Indianapolis 500 of course. Beyond that there's little you can point to that makes this city standout. So the city embraced the convention industry and created a 600,000 square foot convention center.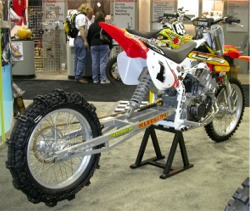 A rare find, a CR929RR Hill Climber was on display at the show.
For the Powersports industry it's the one thing we can point to about the city that is synonymous to motorcycling. Each year in February the Powersports industry convenes for three days of non-stop conventioning. It's a chance for dealers to see what the latest items are out there, what's on the horizon, cut deals with their vendors and manufacturers; and in the evenings enjoy the festivities in the suites at the various local hotel rooms.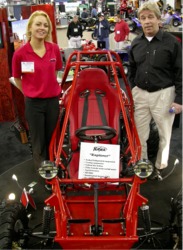 Seattle's Stephanie Coleman and Steve Lieghty show off Kasea's latest four wheel fun machine.
Most everyone who is anyone in the parts and accessories field has some floor space. Vanson Leathers, First Gear, Hondaline, Michelin, Yoshimura, Joe Rocket, and 794 other players are on hand to display their wares. Dealers will preview what's there and ultimately decide what to put on their shelves at the store. And that's all you'll ever see.
If you want to see what else is out there, go to your dealer and ask them if you can peruse the Tucker Rocky, White Brothers and Parts Unlimited catalogs. Wow, what an eye opener. All the toys that never make it to the shelf, but most dealers can order those items if you're interested.
Some of the innovations we saw this year include the following:
Avon Gripster – Avon Tires, who makes their domestic home here in Edmonds, Washington, was on hand to show off their latest "Gripster" tire which is said to offer more traction and last longer than its competitors.

Craig Knapp and Mark Pfenning of Avon. The companies US office is located in Edmonds, WA.

Cruz Tools – Cruz makes replacement tools for motorcycles. They have a number of kits and are expanding. At the show they were introducing an all in one tool for SAE/Harley. They've already been enjoying success with a similar metric product. Cruz tools can be purchased in kits, or piece by piece for those who want to create a custom kit to suit their specific bike. Good news for those with lost tools.

The Grifter – The Grifter is a small storage box that bolts onto your license plate frame allowing you to store and lock up critical documents such as your registration, owners manual etc… Your plate bolts onto the front of the box. The unit will be available by July and retails for $24.95

Slime – The folks at Slime have moved beyond the bicycle market and are making a play for both the motorcycle and automotive market. They now produce a puncture repair liquid for tubeless tires and several repair kits for motorcycle tires.

Electrex – A company run by a few gentlemen who convert dirt bikes to dual sports, the company has developed some sophisticated lighting and electrical products so you can ride your bike off-road and on-road. Beyond just a headlight conversion kit, they have developed some electronic ignition units and high performance stators.

Nikwax – Nikwax was sporting their latest line of Powersports waterproofing products. It was the Everett companies second year at the show and many dealers are familiar with the products now and are starting to add them to their mix.

Chris Mork of Nikwax was on hand to talk to retailers about their new line of Powersports Waterproofing products. Nikwax's US offices are in Everett.

Honda Helmets – Last year Honda added their own lineup of helmets to their Hondaline accessories offerings. Honda had the helmets uniquely designed to match their paint schemes on a number of their popular lines such as the XR, CBR and Gold Wing lines. They then jobbed the manufacturing out to Nolan and Shoei. Funny thing is that to this day we have never seen these at any dealers.

History of Honda – And speaking of Honda, MBI will soon be releasing The History of Honda Motorcycles. We have yet to see a press copy on this book, but if it's anything like some of the other history series they have been releasing, it should be a winner.

Plastex – Finally a consumer oriented plastic repair kit. A new product called Plastex is now available that can be used to repair broken plastic parts of your motorcycle. It's a great idea, but they need to develop their marketing and profile a bit more before riders take it seriously.

Touratech – Seattle's own Touratech (the US division of the German run business) was on hand with their new 2003 catalog. The company has come a long way from just a few years ago when they only offered aftermarket accessories for BMW. Today they have accessories for numerous Dual Sport and Adventure bikes like the Kawasaki KLR650, Suzuki DR400 and V-Strom, various Hondas and Aprilia's Camponard.

Tom and Domonique of Cycoactive/Touratech worked their booth all weekend which featured a tricked out BMW Adveturer and Suzuki VStrom. Thier offices are located in Seattle.
In addition to Touratech, Nikwax and Avon, there were also showings from other Washington State businesses including Gerbings Heated Clothing, EBC, Kasea, Classic Motorcycles, Titanium Springs, Love Leathers, and Bardahl.
The most evident market growth at the show was the number of companies who sell protective motorcycle clothing. It's good to see this market growing as riders become more safety conscious. Perhaps we'll see less tennis shoes-and-shorts clad riders this summer, and things will be a little slower in the emergency rooms. "I was impressed with the new Field Sheer line and we'll be adding it at the store shortly" commented Renton Motorcycle's Junior Queen.
The biggest growth apparel item is the mesh jackets, pants and gloves products, known as "air" products for their ability to help keep a rider cooler in below 90 degree weather. "The new offerings from First Gear were impressive" commented Ride West BMW's Brendan Ferrer, "we're adding the mesh line this spring."
A few bike manufacturers were showing off some new models. It was my first glimpse at the Moto Guzzi Breva, an entry level 750 that's priced at just $7,499. Aprilia was showing off the new Tuano sportbike and Ducati was showing the 1100ie, a slick little machine that marries together styling from the sportbike, sport touring, adventure, and super motard categories. In other words, the bike is in a league of its own.
Enough Already!!! There were hundreds of go-ped style scooter available for franchise, as well as Chinese Scooters and ATV's, many of which still need to comply with DOT standards (most are two stroke). And speaking of things that got a little annoying at the show, how about vendors who kept running out of business cards?
As for my travel experience (as if you really care), I had two pens explode into my hands at 30,000 feet and United Airlines seems to be making a habit out of providing passengers with broken headphones. I also became very aware of how much I like the moist air in the Northwest and how much my sinuses missed it for the six days I was gone.
Advanstar puts on the show, the same people who bring the International Motorcycle Show to the Northwest every year. They do a great job and so much so that they have maxed out the 600,000 square feet available in Indianapolis. The word is they will move the show to Chicago in 2005 where 2.2 million square feet await in the windy city's convention center.
TM/Winter 03