Rally in the Gorge 2011 Recap
A combination of great factors creates one of the best rallies yet!
The rally with nine lives is in the book (our first was in 2003). It's a standing joke that when we lock the exhibit hall door, indicating that the rally is officially over, someone on the crew will inevitably remark "This was the best one yet." And it may well have been for a number of reasons.
What's faster than a wind turbine? A rider enjoying the Mary Hill Loops Road on sunny Saturday afternoon of course.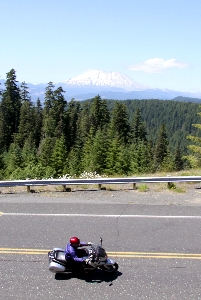 The Weather – This is always a critical factor. Too wet, and some will stay home. Too hot, and others will stay back. But this year the weather was probably the best we've had yet. It never rained, it never overheated and the sky was essentially clear throughout the five days of the rally. Temps were in the high 70's most days. Views of Mt. Hood, Adams, Rainier, Jefferson and St. Helens were stunning from the various vantage points along the recommended routes.
The Roads – A long winter kept everyone guessing about the quality of the roads. For pavement riders it could not have been better. Skamania, Clark, Hood River and Klickitat did a fantastic job of getting their roads in shape this spring and keeping them tidy into summer. Not knowing if FS 25 would be open from Randle to Northwoods this year, we opted to direct the fun run along our Three Rivers route which was a blast for all who played.
Jim Palms rounds the McClellan Viewpoint near Mt. St Helens on his Honda NT 700 sport tourer.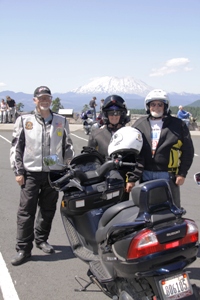 Dual sporters, on the other hand, experienced a few technical chores along the way. The drawn out snow pack made it impossible to check every route in advance, so we relied on reports that came in from the first riders who ventured out at the beginning of the rally. One early report inspired us to kill one of the suggested routes for this year and sub in a more intermediate rated ride. Many roads had not been graded yet this year and added some surface challenges along the way, but the adventure enthusiasts seemed to enjoy the challenges for the most part.
More than a dozen maxi scooter enthusiasts converged on the rally this year.
The Routes - It was another year of attendees asking "Where do you guys come up with these great roads?" The collection of suggested rides and the fun run route kept many attendees grinning from ear to ear, mile after mile. Some experienced rally goers sought our routes they had enjoyed in previous years, while others simply came up with their own concoction of roads to ride. Improvisation during several of the dual sport rides brought forth various solutions to closed roads, all of which worked and provided plenty of stories to be shared in the evenings.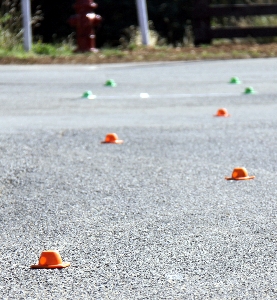 The Fun Run – SR!'s Emily Mercer crafted out a very fun Fun Run, which was based on Monopoly's chance cards. This Moto Life presented riders with a host of circumstances, both good and bad, that we all face as riders at one time or another during our moto life. No one saw it coming, but the first check point required riders to perform the cone weave test which is identical for Washington, Oregon and Idaho endorsement tests. And RitG riders scored very well overall, just as we expected them to.
Checkpoint one - the cone weave. You either loved it or dreaded it.
The Presenters – The cast of presenters this year was yet another top notch list of names including Clement Salvadori (Rider Magazine), David Hough (Proficient Motorcycling), Bret Tkacs (Puget Sound Safety), Ed Hiatt (Happy Trails), Rick Wallace (Crash Scene Management Instruction), Chris Johnson (Washington Motorcycle Safety Training), Pat Hahn (Ride Well, Ride Hard) and others. New this year was 15 year old Jessica Tkacs who presented a passenger rider clinic. After spending 10 years behind dad, she knows her way around the rear seat of a motorcycle.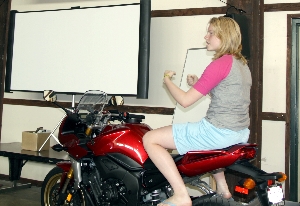 The Clinics & Seminars - The clinics and seminars were stellar. Salvadori took the stage Friday night to present a History of Sport Bikes slideshow, then returned front and center after sunset to present his Riding the Continental Divide slide show for the off-pavement enthusiasts. Bret Tkacs and his Puget Sound Safety crew provided a half dozen presentations between them, including several rolling clinics. Ed Hiatt shared his secrets about dual sporting in Idaho and later provided insight as to what innovations are coming down the pipe from Happy Trails. David Hough ran several riding skills sessions and Chris Johnson of WMST worked together with his staff and members of Team Ride West to run a rolling clinic w/lunch along the Rowena curves.
15 year old Jessica Tkacs ran a two-up rider seminar Thursday afternoon.
The People – Over the last few years we've had nothing but a stellar collection of attendees who are simply the finest group of people we can think of. Well mannered, respectful of others, and, for the returning riders, they are very friendly toward new attendees. Despite having 325 people in attendance, we only had two riders injured, which is the lowest number we've seen in recent years. Riders were geared up well, being responsible for themselves and all those involved with the rally. Our farthest rider (who came from Florida) plans to return next year.
Rider magazine editor, Clem Salvadori, makes the rounds following his History of Sportbikes presentation on Friday night.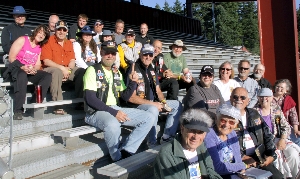 The Clubs – Clubs were well represented. This was most likely the largest collection of members from PNWRiders.com, who took over the north RV area, creating their own village across no less than 12 full size RV spaces and being good neighbors to all others. Team Ride West had more than a dozen members on hand. New to the rally this year was the newly reformed Boeing Motorcycle Club who commandeered a large spot in the tent camping area. But the largest contingent was the Fast Lane group with more than 30 members in attendance.
CMA/Fast Lane (above) once again provided gate support throughout the really. We truly appreciate it.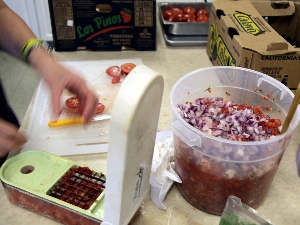 The Food – Our food service was again provided by Busy Bee Catering of Welches, Oregon and was delicious. Owner Todd Ostrom connected with local tribe members Friday to procure Steelhead salmon caught fresh that morning off the Native American platforms near the Bridge of the Gods.
Busy Bee hands at work making fresh Salsa from scratch - that's just how we like it!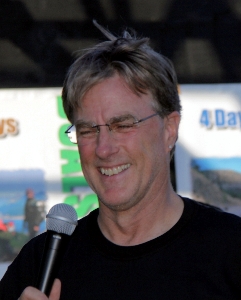 Door Prizes and Silent Auction – The Silent Auction returned to the tables in the exhibit hall this year and included a fine array of goods and services. Highlights included luggage from Givi (courtesy of Seattle Cycle Center), Lee Parks Design, Happy Trails and Twisted Throttle. Tires were provided by Avon and All Moto Tires. Riding skills classes were offered by Puget Sound Safety and WMST. Cardo came to the party big time with not one, but three rider/passenger intercom systems. Connie and Emily did a great job of processing all the winners.
Harvey Gilkerson cracks up the crowd and himself during one of two rounds of door prize giveaways.
On Friday and Saturday night, Harvey Gilkerson and Dave Preston shelled out the many door prizes provided by names like BMW North America, Creative Cycle Concepts, Twisted Throttle and many others. Diamond Lodge of Central Oregon provided a three night stay/two bike rental package. But the Big Kahuna prize came once again from Ride West BMW, this year in the form of a Schuberth Concept 3 helmet. In all we raised enough monies between the auction and door prizes to run 8-12 field trips in the next twelve months through our Gorge Kids Explorer Fund!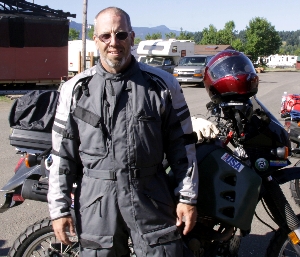 The Staff and Support – This rally was simply one of the smoothest ever. The more we do it the better we get at it. And that's attributable to the fine staff that works the event and those who support it through volunteer time. Bruce Scott, Connie Adams, Emily Mercer and Paul Teft all worked from Sunday to Sunday, putting it together and taking it apart. We always appreciate the support from Harvey Gilkerson and Dave Preston on the door prize nights and running a checkpoint on the fun run. Steve Schiller and the CMA staff did a great job running control at the entry gate.
The last arrival. Plagued by a mechanical issue, Dave Hembroff, road riding manager for AMA, had hoped to get in Saturday, but finally made it to the rally site Sunday morning.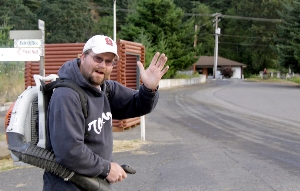 Stevenson & Community – Ann Lueders and her grounds staff have never let us down. We can call them in the middle of the night and someone will answer. Things get done right and on time throughout the setup and running of the event. There's no way to thank them enough. The food services in town did a great job and we can't close this up without thanking John and Andra at A&J Market for once again providing bottled water to greet each arrival with at registration.
Tim O'Mahoney takes care of getting the grit off the pavement at the fairground the day before the rally began.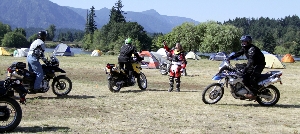 Gary and Roy from PSSOR ran a dual sport riding clinic Thursday afternoon which the attendees loved.
The rally with nine lives will soon be ten and we can't wait until next year to do it again!
| | |
| --- | --- |
| | |
| Bret Tkacs of PSSOR provided numerous dual sport and road clinics during the rally. | Chris Johnson with WMST provided an afternoon long cornering clinic and an ergonomics seminar. |
SR!/Summer 2011