The Seattle 100
Join Several Stars of Professional Motorcycle Roadracing, Greg White, Speed TV, and Hollywood Celebs in This Year's "Seattle 100" ! ! !
Brian Orton, co-owner of locally operated 2Fast Motorcycle Track Days & Instruction, is very pleased that his son, Christian Orton, is currently living the life of a happy six year old. Five years ago, Christian was diagnosed with Nephrotic Syndrome – a kidney disease that often results in dialysis or the need for a kidney transplant. Today, however, you'd never know Christian was once the victim of such a disease: Orton's prayers were answered when his son responded positively to steroid treatments years ago. Five years since the treatments, Christian has not had a relapse… though Orton knows a relapse could occur anytime. There is no known cure for glomerular kidney diseases like his son's.
Photos: Above - Speed Channel's Greg White on the track during the Seattle 100 at Pacific Raceways in Kent, 2004. Below - White posses with kids during the 2004 event. Bottom - Brian Orton with his son Christian.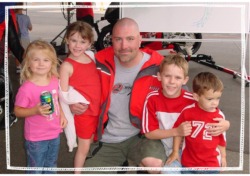 Orton wants to insure that a cause and cure are found for those who have not been as fortunate. Many children suffer the terrible consequences of glomerular kidney disease, and Orton is trying to lend them a helping hand. He is the co-founder and Vice President of the NephCure Foundation and is now leading a national effort on the part of NephCure to raise funds for the cure of glomerular kidney diseases. On Saturday, July 30th, 2005, Orton and the staff of 2Fast will operate the most un-ordinary of fundraisers in Kent, WA: a 100 lap motorcycle "lapathon" on the roadcourse of Seattle's Pacific Raceways, formerly Seattle International Raceways. Participants in the event raise per lap pledges and donations, the proceeds of which go to The NephCure Foundation.
A FREE track day!? There is no cost to riders for participation in the Seattle 100, despite the catering, free swag, and entertainment – and the invitation to ride is open to all riders on virtually any kind of streetbike. All Orton asks is that each rider commit to raising and collecting $500 or greater in donations/pledges towards the event.
Last year's 2nd annual running of the "Seattle 100" was so successful it raised an eye-popping $70,000 in gross proceeds and was written up nationally. Most attendees are returning this year, and those who attended last year claim it was unlike any track day or charitable fundraiser they'd been to. For many, it was their very first time on a track… and most walked away hooked.
For the 2005 Seattle 100, Orton is seeking more riders to participate in three different riding sessions per hour (33 riders per session) – and he wants to raise $100,000 in gross proceeds.
"We're halfway to our goal of recruiting 33 people for each of our riding sessions, which is fantastic. We're way ahead of where we were last year at this time, but I still need to fill up the rest of the spots," says Orton. For those who may think the $500 may be too difficult to raise, Orton responds "you'd be surprised how many people felt the same way, only to find that their friends were excited to support them… and gave generously. I get emails each week with people telling me how quickly they raised the money and that they're now up to a thousand or fifteen hundred dollars. All it takes is a little effort and the willingness to tell others what you're doing: the rest is easy. People want to give."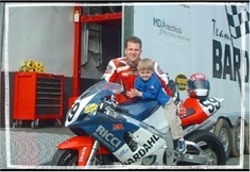 Helping Orton promote the event are several special guests who will ride in the event and hang out with Seattle 100 participants, including Factory Superbike star Jake Zemke of American Honda and AMA Supersport sensation Jason DiSalvo of Factory Yamaha. Joining Zemke and DiSalvo will be Greg White of Speed TV's "Two Wheeled Tuesday" and his television cameras. White was so impressed with last year's event that he actually called Orton and asked if he and Speed TV could come back this year.
Also in attendance will be Hollywood celebs David Alan Grier (actor/comedian/producer) and Mark Paul Gosselaar of Saved By The Bell / NYPD Blue fame, each of whom is set to ride their own bikes in the event. AMA Superbike top privateer and local Puyallup resident Jake Holden is also expected to attend.
To learn more about the 2005 Seattle 100 or to get registered, please visit the Seattle 100 web page. Brian Orton can be reached by email at brian@2-fast.org or by calling 206-715-4161.