Super September Weekend
An Autograph Signing, The Seattle Mile and The Oyster Run Make for an Excellent Weekend
The last weekend of September was a good one for Puget Sound motorcyclists. The trick was figuring out when to sleep.
Scotty Parker Autograph Session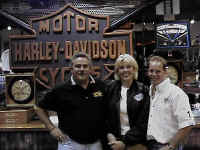 It began Friday evening when we got tipped to an autograph signing at Eastside Harley Davidson with nine time Grand National Champion, Scotty Parker who was in town to race the Seattle Mile. Parker signed autographs for race fans from 5-8 pm and Eastside provided food and beverages for attendees.
In attendance were staff, customers and other on-lookers as well as Tom Samuelson, a curator for the Northwest Museum of Motorcycling, who stopped in with friends and family to say "Hi" to Parker knowing that this would be Scotty's last time through town as he will retire this year.
Seattle Mile Event at Emerald Downs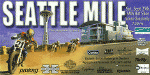 Saturday night Emerald Downs held the Seattle Mile put on by Chris Agajenian presents. This year a few things had changed. Some for better some for worse.
Hinshaw's hosted a motocross event inside of the track which put motocross riders against dirt track riders in TT class races over a very small, tight motocross course. In most cases the motocrossers prevailed, but in a few instances the dirt track riders took the flag.
The most exciting race of the night was the 750 class heat race. For the better part of the race Scotty Parker and Jay Springsteen duked it out for first place until the final straight where Springsteen managed to hold a lead on Parker by only about a half bike length. By now hearts had sunk, many hoping to see Parker win his last race at Emerald Downs, but his chances looked slim.
When the moment on of the main race came up, Parker had been assigned an outside position at the start line leaving an even grimmer possibility. When the light went green Parker shot into turn one passing up all other riders and immediately moved into first place, holding it for all 10 laps and taking the victory!
The turnout looked smaller than last year and we noticed a lot less dealers having fund raiser rides to the event. Also, the custom bike show put on last year in the entry circle by Downtown Harley was missing, and for some reason Ducati had a large tent display, despite the fact that Ducati is not a popular bike for this sort of event.
The Oyster Run

The Oyster Run is probably one of the biggest motorcycle events in the Northwest bringing out more than 10,000 riders and bikes, all of whom make their way to Anacortes from destinations around the sound and beyond. This year we saw a lot of riders from British Columbia, Idaho, Montana, Oregon, California and even the Dakota's.
Our route led us up highway nine from Bothell and then we went west on 20 upon arriving in Sedro Wooley. Our group consisted of a PC 800 and two Helix' and we were proud to be representing the plastic fraction on the market. Considering this event is heavily dominated by Harley's you can imagine the grins and laughter we brought to the surface.
Arriving in town it was like one long, crowded VME club meeting that had exploded like a bomb... bikes everywhere and people walking the 10 block long stretch of Anacortes' downtown area.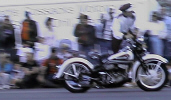 A quick lunch and we were off to a side street for exhibitions by the Tenino and Cossak Motorcycle drill teams. While the Tenino team was impressive, the Cossaks took the cake for entertainment. The team features a dozen riders- all on classic Harley's- that stand up do the same things the high school drill team does but with one, two, or three bikes moving underneath them. More in a Future issue.
Our ride back was down the island of Whidbey. Late afternoon gave us a smooth slow sunset as we made our way through the fields and trees of the island to the ferry at the south side. The perfect way to end a great weekend.
PT