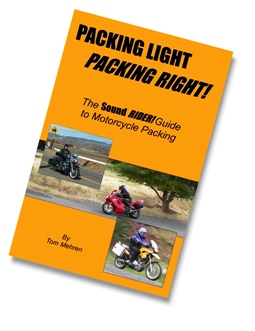 Whether you're getting ready for a day ride or a week long touring extravaganza, packing for your next motorcycle trip is an art.

What to bring and what to leave home? Having trouble getting your luggage to close? Should you carry a tire pump, first aid kit or three pairs of cotton blue jeans?

Packing Light Packing Right! answers all these questions and more as we delve into what makes sense to ride with and what should stay home. Trying to pack lighter and more compact? Making sense out of what to carry for the occasional day ride or a long trip will save you hours of decision making and help you to better prepare for the ride ahead. This book will also save you money steering you clear of items that are less than necessary on the road allowing you more time and money to ride!

Author Tom Mehren clocks more than 20,000 miles a year on a motorcycle. As the publisher of Sound RIDER!, the Northwest's largest motorcycling magazine, Mehren has made a science out of creating packing lists that work, ferreting out needless items and carrying the one's that make sense. Whether you're a seasoned traveler or new to motorcycle riding, Packing Light Packing Right! will help you put it all together and provide a better understanding of preparing for your next ride.

To purchase a copy of Packing Light, Packing Right! by Northwest motojournalist Tom Mehren CLICK HERE. It's also available at Seattle Cycle Center, University Honda/Yamaha and Rich's Custom seats in Seattle.

Subscribe free to Sound RIDER!, the Northwest's Ultimate Motorcycling Resource. Each month you will receive informative editorial and useful tips right in your inbox, helping you have fun, stay safe and be well informed while out on the road.

UPCOMING 2008/2009 BOOK TOUR & CLINIC DATES

All dates include clinics and signings unless otherwise noted.
---
...past dates since the book was published 11/06

2008
2007
11/30 - 12/2 Cycle World International Motorcycle Show, Seattle WA (signing)
8/23- 26 - Sportbike Northwest, WA/OR
8/26 - 29 - Dualsport Northwest, WA/OR
7/26 - 28 - AMA Vintage Motorcycle Days in Lexington, OH.Sat/Sun May 5 & 6 - Governors Run, Bremerton, WA (book signing only)
5/5-6 GWRRA Governors Run, Silverdale WA
4/28 - Eastside Motosports, Bellevue WA
3/17 @11am & 1pm - Battelle Auditorium, Richland WA
(day ride clinic 11am, overnight clinic 1pm)
3/10 @ 10am and 2pm - Seattle Cycle Center in Seattle, WA
3/8 @ 6:45pm - Pro Caliber Motorsports, Vancouver, WA (FREE Pizza!)
2/23-25 - the Inland Motorcycle Show in Spokane, WA (book signing only)
2/3, 2007 at the GWRRA WA District Rider Education Workshop in Buckley, WA.
2006
12/1-3 2006 at the International Motorcycle Show in Seattle, WA