About Sound RIDER! Tours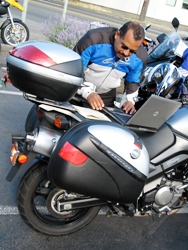 At Sound RIDER! we've been riding and writing about riding in the Northwest since 1999. And even though we started that long ago, there are still plenty of places we haven't been.
In 2002 we created the 3 Pass BLA$T, a time/speed/distance event that took riders through the Cascades using many out-of-the way tertiary roads.
In 2003 we began what is now known as the Rally in the Gorge, a five day rally with a focus on sport touring, sport bikes, dual sports and maxi scooters.
In 2005, when Washington State Tourism needed a guide for a five day press tour of the state, they tapped Sound RIDER! publisher Tom Mehren to take five other moto journalists through the back roads of the Evergreen state. That was a lot of fun, and we thought why not share a week on the road with others so they can experience the wealth of great riding here in the Northwest. Eventually we would.
In 2006 we began what became the Sasquatch Dual Sport Tour. Our first full-fledged multi-day tour aimed at dual sport and adventure enthusiasts.
Well that's fun, but we needed to provide a similar five days on the road for touring and cruiser enthusiasts. The Ultimate Road Trip was born out of that need in 2009 and continues to this day.
Over the years, we've published a number of touring guides including Motorcycling in the Columbia River Gorge, Dual Sport Rides Through Western Washington, Motorcycling in Central and Eastern Oregon and our latest release, Motorcycling Through Western Oregon.
In 2011, Sound RIDER! was honored by the American Motorcyclists as Road Event Organizer of the Year. We saw the award as a reflection of the hard work we've put into making great events ever since that first 3 Pass BLA$T ride back in 2002, and we're committed to making every event better and better as time goes on.
Come join us soon!